How Real Estate Agents Can Win More Listings in 2023
7 steps to get more listings by using the latest real estate technology to leverage your expertise
Sometimes the biggest challenge you can face as a real estate agent isn't juggling logistics or closing a deal — it's showcasing your capabilities to attract potential clients.
As the industry evolves with shifting expectations from sellers, your strategy has to grow as well. ShowingTime+ has gathered some of the best tips to help you win more listings as you navigate the market and move forward with your business.
Step 1: Attract more seller clients by making your existing listings stand out
One of the first questions on the mind of every potential seller when they seek out an agent is "What can they do to sell my property at the highest price?" Nothing catches their eye faster than an agent who is creating sharp, top-of-the-line listings to help attract buyers. By using the latest technology, you can ensure all of your listings stand out from the pack, get more looks and show potential sellers you can do the same for their property.
Step 2: Use the latest real estate photography and immersive media
Another way to create listings that stand out is by using professional, high-res real estate photography with smart editing choices and up-to-date media such as interactive floor plans and aerial photos. These features are so important to clients that, according to Zillow Consumer Housing Trends Report 2022, 70% of sellers confirmed they're more likely to hire an agent who includes virtual tours or interactive plans in their services.1 And 90% of buyers consider photographs to be the most important feature in a listing.2
Adding an interactive floor plan can often be overly technical and expensive, but ShowingTime+ makes it easy with its new Listing Media Services, which provides two packages with different features, including virtual tours, high-res floor plans and distribution on Zillow, Redfin and more MLSs. Check to see if Listing Media Services is in your area or join the waitlist to be one of the first to sign up when it becomes available to you.
Step 3: Tailor your pitch to the property
It's tempting to include all the bells and whistles in every listing, but savvy agents know how to advise their clients on what will suit their property best. In some cases, that means you don't need to include videos for social media or aerial photos — you just need a sharp listing with high-res photography to entice buyers. For example, if the property doesn't include much acreage and there are no notable natural features nearby, you may not need aerial photos. And digital touch-ups are a great tool for enhancing photos, but if you believe the listing is better served without those virtual edits, you can offer that advice to the client and save some money in the listing process.
By optimizing your pitch and not overselling your clients, you not only provide them with a personalized level of service but you'll also grow the kind of trust that leads to referrals and more listings through word of mouth. Serve your clients' specific needs now and they'll keep coming back.
Step 4: Maximize your showing capability
Another crucial aspect of winning a listing is being able to assure sellers that not only will their property be seen and toured by many potential buyers, but that you're skilled at managing the showing process to make sure no appointments are missed, and therefore no sales opportunities are lost.
Managing those logistics can be tricky, but by using ShowingTime+'s software, including showing management tools and the 24/7/365 Appointment Center, you can build trust with sellers by letting them know you're supported by a team of professional appointment specialists to handle any circumstance.
Also, if your sellers are flexible, you can let them know they can expect 30% more showings to occur3 with ShowingTime's courtesy call setting, which allows buyer's agents to get appointment requests confirmed immediately without the hassle of back-and-forth phone tag. In addition, rather than handling phone calls and text messages yourself, you're providing your sellers with a trained team that's always available.
Step 5: Future-proof your business with technology
Millennials continue to comprise a significant portion of the real estate market, with a current population just over 72 million4, many of whom are likely to seek out an agent for help with buying and selling homes in the coming years. According to Zillow research, millennials prefer digital solutions and communication tools like email or texting when shopping for homes. By using digital solutions to prepare and market your listings, confirm showings, manage offers and streamline transactions, you'll be providing next-level assurance to your tech-savvy clients that you can meet their buying and selling needs. Knowing their agent uses the latest technology to efficiently move them through the process, communicate updates and get them the best possible deal is a great way to grow your repeat business.
Step 6: Use your recent wins as a resume to get more listings
Nothing proves value and success like a history of great listings with positive outcomes. By using ShowingTime+ tools, you can create standout listings and generate offers for your clients while you simultaneously build your reputation. Numbers speak for themselves, and utilizing ShowingTime+'s software suite can help you retrieve data, show off prior listings and easily cite your sales record to demonstrate you're working with the most up-to-date tools the industry offers.
Step 7: Give yourself the time to showcase yourself as an agent
The real estate industry is constantly changing and requires agents to adapt to be successful. By continuing to find ways to add efficiency to your business through the latest tools, you can allow yourself more time to focus on building relationships with your clients and being an expert in your marketplace. Combining use of the right software with your expertise and knowledge of your specific market allows you to provide a unique experience for potential sellers, generate more listings, and set yourself up for success, again and again.
Explore Professional Real Estate Photography & Media Packages
Listing Media Services bundles photography and media to make scheduling fast, easy and reliable and helps agents win more listings. Select from two packages: Essential or Premium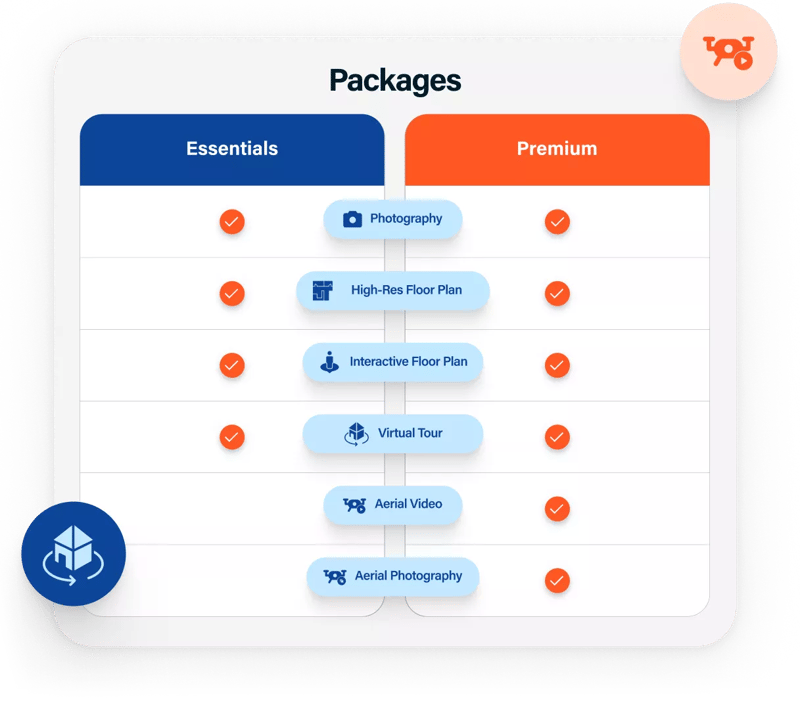 1 From Zillow Consumer Housing Trends Report 2022
2 NAR, 2021 Home Buyers and Sellers Generational Trends Report
3 ShowingTime analytics team research
4 Via Pew Research Center, defined as ages 23-38 in 2019 in the United States at 72.1 million