Effortless offer management
Offer Manager simplifies the offer management process by providing a streamlined workflow to track offers, manage documentation, and communicate with agents. Offer Manager is included in the Appointment Center suite of showing management tools and is also available for purchase for users of ShowingTime for the MLS.*
*Subject to market availability.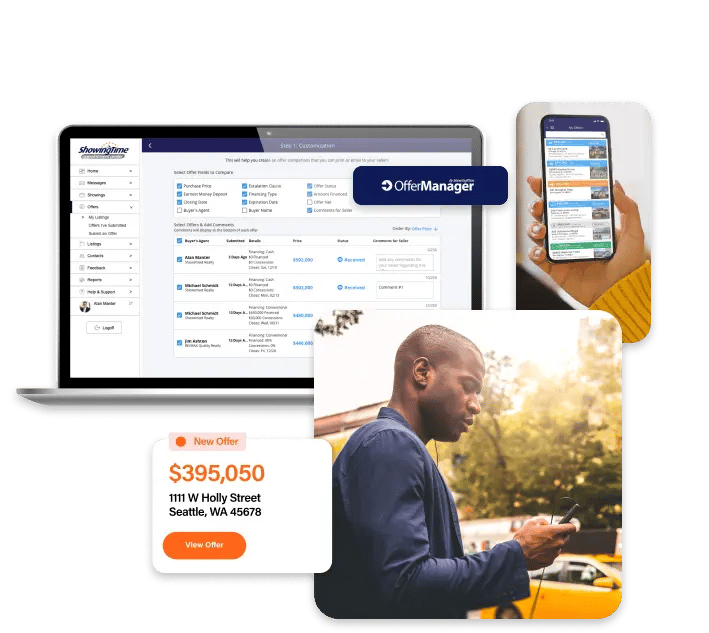 Easier Communication with Buyers' Agents
Offer Manager by ShowingTime+ automatically stores buyer agent contact information with each offer, letting you easily update them on the status of the offer. It's also easy for listing agents to reach out directly, either by phone, by text or as a mass update to all buyer agents at once.
Automated Read-Receipt
Buyer agents are notified as soon as you open their offer, saving you time while letting them know their offer was received.
One-Touch Call/Text/Email
Easily text, email or call any buyer agent without having to search for their contact information.
Mass Email All Buyer's Agents
Quickly email all agents that have shown the property with any message like 'highest and best' to help get the most for your seller.
Send Offer Status Notifications
Send an offer status update to the buyer agents letting them know the status of their offer.
Offers Organized by Listing
All offers are automatically organized for you, making it easy to see and manage all offers for each listing.
Never Miss a Real Estate Offer
You can now get text, email and app notifications for new offers, making sure you never miss an offer.
Offer Instructions for Buyers' Agents
The "offer instructions" section helps you get more complete offers and set clear expectations for buyer agents.
Quickly Show Sellers Top Offers
Getting an offer on a listing is great, but it can be time-consuming to communicate important details with your sellers. With Offer Manager by ShowingTime+, you no longer have to manually add all the offer details into a spreadsheet. You can send a professionally formatted side-by-side comparison to your seller from your phone or laptop in about 30 seconds.